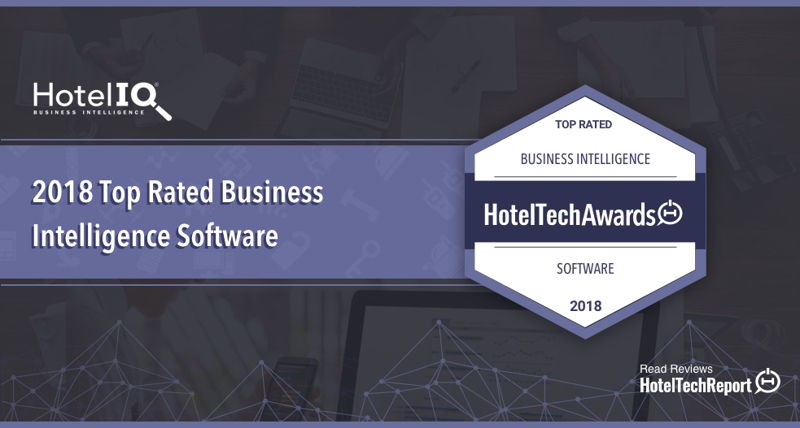 February 12, 2018 – Hotel Tech Report has named HotelIQ 2018's top-rated Hotel Business Intelligence Software based on data from thousands of hoteliers in more than 40 countries around the world. Over 100 of the world's elite hotel technology products competed for a chance to win this prestigious title.
The HotelTechAwards platform (by HotelTechReport.com) leverages real customer data to determine best of breed products that help hoteliers grow their bottom lines.
There's a saying in Silicon Valley that if you can't measure it, you can't fix it. HotelIQ is a leader in the Business Intelligence category that is more important for hoteliers in today's competitive market than it's ever been in history. We are living in a data-driven world, but without the right tools, it's almost impossible to effectively interpret that data and tweak strategic decisions in real time. Business Intelligence is a must-have for any hotel who wants to maximize their top line through Sales, Marketing, Distribution and Revenue Management and HotelIQ is leading the charge with its best of breed product.

– Hotel Tech Report's Jordan Hollander
HotelIQ is poised for sustained growth in 2018. Hoteliers have recognized HotelIQ's truly world-class ease of use, depth, multidimensionality, dynamism and design capabilities where HotelIQ has exceeded the category average by more than 8% and received a perfect score of 100 out of 100.
One Orange County California based General Manager describes their experience with HotelIQ's business intelligence software, "The platform is incredibly intuitive and with the first use I was able to access my data at an extremely granular level with only a few clicks.
HotelIQ Business Intelligence software is one of the most revolutionary products to come our way in some time. It has helped a number of our hotels maximize performance by providing quick and immediate insight. You will be amazed at how easy and intuitive it is, and how much it will help your hotel drive top-line revenue.

– By a San Francisco based SVP Sales & Marketing