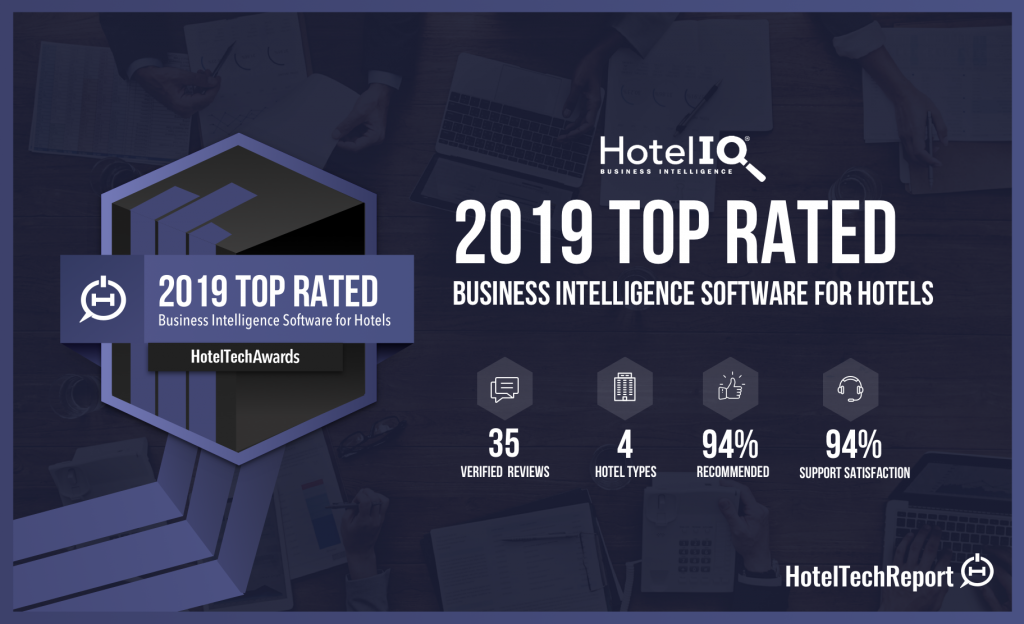 We're proud to announce that HotelIQ has been named the Top Rated Hotel Business Intelligence Software in the 2019 Hotel Tech Awards!
This is the second year in a row we've topped the Business Intelligence category, based on ratings & reviews from hoteliers around the world, competing against the world's elite hotel technology products.
Reviews from HotelIQ users:
This tool allows you to truly dissect your business and start making solid forward-looking decisions to positively impact your company. It's truly the best BI Tool on the market and they have a solid team supporting the product

– Miami-based Director of Revenue Management
This is a tool that benefits sales and leadership teams, praising insights that were only previously possible by crunching Excel and ensuring data entry standards were consistent across our group. HotelIQ cuts through the burden of this and allows infinite drill downs possibilities.

– Hong Kong-based Group Operations Director
The HotelTechAwards (produced by Hotel Tech Report) announced the year's top rated hotel technology companies and products based on more than 20,000 hotelier ratings and data-points.
During the HotelTechAwards thousands of hoteliers leave honest reviews of vendor partners across the hotel tech stack. This data is used to identify the best companies based on the judges that matter most – customers.
The competition spans core areas of hotel technology: marketing, revenue, operations and guest experience.
The HotelTechAwards are often referred to as "the Oscars of Hotel Tech" and winners were selected from more than 180 of the top technology products around the world.
The HotelTechAwards are the industry's only data driven awards platform with winners determined not by a handful of judges but by a global community comprised from thousands of verified hotel technology users across more than 120 countries.