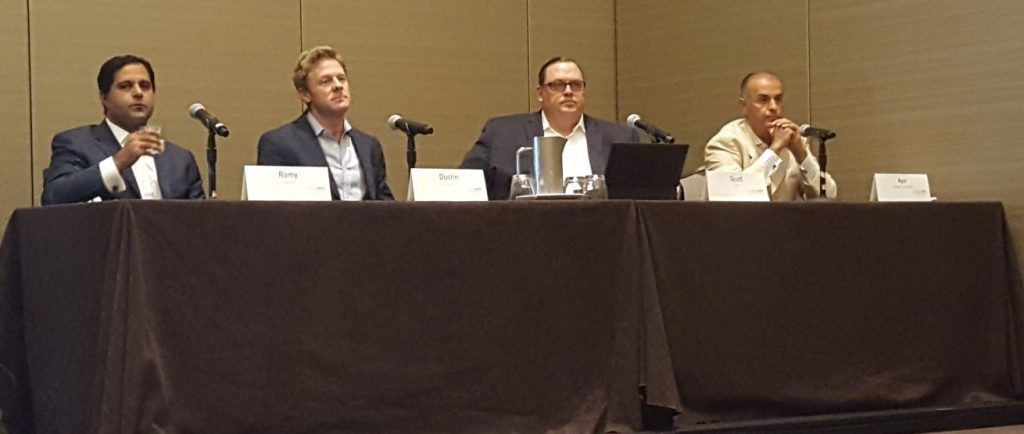 Intelligent Hospitality LLC, a leading provider of Business Intelligence and Analytics solutions for the hospitality industry, has been empowering hotels to harness the power of their data since founding in 2011. Most recently they made their presence felt at both the Hotel Data Conference in Nashville and the Cornell Hotel School's Atlanta Lodging Outlook.
Apo Demirtas, Ph.D., founder & CEO of Intelligent Hospitality, caught the attention of attendees as he challenged hotels to be proactive about utilizing their data in a meaningful way. On the "TMI? No Way! AI + BI = Trackable ROI" panel discussion, featuring industry leaders from Horwath HTL, Google Travel, Ernst & Young and HotelAVE, Apo spoke passionately about hotels needing to leverage the data resources easily accessible to them before chasing after lengthy and capital intensive Big Data and Artificial Intelligence initiatives.
Dustin Bomar, Head of Industry, Travel at Google echoed this sentiment claiming that "while sources like Google can provide hoteliers with large amounts of data, ultimately it's not effective without also making use of the vast amounts of actionable data on their own hotels".
Apo also spoke at the Cornell Hotel School's Atlanta Lodging Outlook, a sales, marketing and revenue management-focused event, on a panel moderated by Kirk Kinsell, the former CEO of Loews Hotels and IHG North America. Participating in a discussion on the use of Business Intelligence and leveraging hotel data, Apo stressed the importance of these techniques as part of modern hotel operations. His thoughts were warmly received, and he was immediately approached by several attendees looking to learn more.
About Intelligent Hospitality, LLC
The creators of HotelIQ Business Intelligence, a cloud-based business intelligence solution for hoteliers, Intelligent Hospitality, LLC set out to change hotel reporting and analytics since founding in 2011. With the goals of helping hoteliers improve their performance and evolving decision making in the hotel industry, HotelIQ Business Intelligence currently supports hotel sales, marketing and revenue strategy decisions around the world.
Twitter: @HotelIQ_BI Email: info@intelligent-hospitality.com
About Apo Demirtas, Ph.D.
The Founder and CEO of Intelligent Hospitality, Apo has over thirty years of experience in hotel operations, sales, marketing and revenue management roles. His career includes roles as Chief Sales and Marketing Officer with Jumeirah Group, VP Market Strategy at IHG Americas and Senior Corporate Director of Revenue Management with Hilton Hotels. He holds a Master's degree in Hotel Management from Florida International University, and a Ph.D. in Microeconomics from Ohio State University.
Twitter: @hoteliq_apo Email: apo.demirtas@intelligent-hospitality.com